Village of the Ghost Bears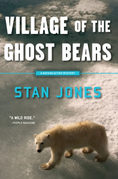 Reviews


New York Times Book Review
You can't fake the stuff that Stan Jones pulls off in VILLAGE OF THE GHOST BEARS (Soho, $24), the fourth mystery in his series about Nathan Active, an Eskimo state trooper whose beat covers the most remote regions of Alaska. A writer of muscular words and stark images, Jones sets up his scenes like film shots: the daredevil maneuvers of a bush pilot landing on a lake; herds of caribou crossing the mountains to winter grounds; a body floating gently on the current of a stream, its flesh eaten by pike. This kind of writing makes for strong reading, especially with a sturdy murder plot to give it structure. Make that two plots: one involving the unidentified corpse, the other an arson case that claims the lives of eight citizens of Chukchi, a frontier town of wooden houses and steel backbones. Active knows the territory and understands the regional psychology. What he can't grasp is the brute instinct that makes people destroy the peace of such a majestic environment. — Marilyn Stasio, Dec. 13, 2009
New York Times
As readers of Stan Jones's Nathan Active series know, Alaska State Trooper Active would like nothing more than to transfer out of the town of Chukchi and head back to Anchorage. But while he's waiting, someone burns down Chukchi's recreation center, killing not only the town's star basketball player but also its chief of police. The city cop Alan Long isn't up to solving the crime, which soon has Nathan trying to figure out the connection between the fire and the trade in polar bear parts, a dead hunter at a remote spot called One-Way Lake, and the seemingly crazy twin brother of a woman killed in a plane crash. The book is filled with the details of Inupiat life, like a caribou carcass being cut apart in the living room of a local home. – Amy Virshup, Dec. 16, 2009
People Magazine
In the fourth book of this enchanting series set in Alaska, a hunter turns up dead and faceless in a remote lake the same week a rec center fire takes the lives of eight locals. It falls to State Trooper Nathan Active to figure out if the two events were accidents or crimes— and whether they're somehow linked. Following clues all the way to the tiny Arctic village of Cape Goodwin ("famous for twins, polar bears and schizophrenia"), Active brings the reader along on a wild ride through rugged Inupiat (Eskimo) country. Jones's prose is sometimes too pulpy, but he's created a richly populated universe you'll be sorry to leave. Three stars. — Brian Braiker, Dec. 7, 2009
USA Today
Readers hungry for an authentic portrait of our 49th state — beyond what we've learned since Sarah Palin stepped onto the national stage — will be mesmerized by this chilling tale that starts with the deaths of eight people in a fire at the town of Chukchi's rec center. Was it arson or accident? Village of the Ghost Bears is the fourth in Stan Jones' series starring Alaska State Trooper Nathan Active. Readers attracted to novels with a profoundly rich sense of place will find much to love here as Active undertakes a dogged and risky search for the possible killer. Painterly descriptions of Alaska's natural beauty and the lives of the native people are fascinating. — Carol Memmott,Dec. 31, 2009
Entertainment Weekly
You can almost hear the wind screaming across miles of bleak tundra and frozen lakes in Ghost Bears, the fourth outing for Alaska state trooper and native Inupiat Nathan Active, who's still posted in the godforsaken Arctic Circle village of Chukchi. Jones delivers a finely laddered plot — involving deadly arson at a local recreation center and a faceless body discovered at a remote campsite — but the real fun, as always, lies in the dozens of mini-lessons he gives on hardscrabble Alaskan life, covering everything from the illegal trade in polar-bear bladders to the description of a potent indigenous chewing tobacco made from burnt birch-tree fungus. A-. — Tina Jordan Tucker
Boston Globe
In this installment of Stan Jones's series featuring Alaska State Trooper Nathan Active, Nathan's backcountry camping trip with his girlfriend is disrupted by two grim incidents. First they find the decomposing corpse of a hunter. Then Nathan gets word that he is needed back in Chukchi, where a suspicious fire has killed over half a dozen people, including the police chief, a terrible toll in this small Inuit community. Nathan soon realizes that the two incidents are somehow connected with the illicit trade in polar bear gallbladders, a desirable commodity in Asian markets.
Jones constructs a satisfyingly complex plot, leaving it to the location to provide the atmosphere. This is Alaska's Far North, a forbidding landscape of gray and brown and icy white, of craggy mountain ranges and Arctic coastal villages where ramshackle buildings ride the permafrost on stilts, grannies butcher caribou on the kitchen floor, and lawmen tracking a killer rely on daredevil bush pilots to fly them from one location to another.
In his knowledgeable and nuanced evocation of Native America, Jones bears a gratifying resemblance to Tony Hillerman, the late grand master. – Amanda Heller, December 27, 2009
Fairbanks Daily News-Miner
Novelist and longtime Alaskan Stan Jones has been on a winning streak with his Nathan Active Mysteries, and with the latest installment, "Village of the Ghost Bears," he shows no sign of sagging.
For those who haven't delved into this series yet, it follows the career of Active, an Alaska State Trooper posted in the fictional town of Chukchi, a remote village on Alaska's northwestern shore that's patterned on Kotzebue.
Active is an Inupiat Native who was born in Chukchi, but who was adopted by white teachers and raised in Anchorage.
If Active had his druthers, he'd still be in Anchorage, patrolling the state's largest metropolis.
For now, however, he's stuck in his birthplace, getting reacquainted with his real mother and slowly learning about his Native heritage while he awaits a transfer.
He isn't bored though, because Chukchi seems to have an alarmingly high murder rate, an unfortunate crime statistic that keeps his career, and this series, in high gear.
Active's latest adventure opens with a camping trip to One-Way Lake, an idyllic getaway deep in the Brooks Range, where he and his girlfriend Grace have gone to spend some quiet time together. Their romantic trip is quickly disrupted, however, by their discovery of a body in the lake. The corpse belongs to a man who apparently fell to his death from the cliff above the lake. All the evidence points to an accident, but because the man wasn't carrying identification, and because the pike in the lake have eaten away his face, who he was remains a mystery.
Before Active can pursue this finding any further, however, the couple's trip is brought to an even more abrupt halt by the return of Cowboy Decker, the bush pilot who flew them into the mountains and who has come back to retrieve them ahead of schedule.
As he explains to Active, the community recreation center in Chukchi has burned to the ground, killing several people including the town's chief of police.
Active returns to Chukchi to join the investigation of the fire, which may or may not be arson, leaving the body in One-Way Lake as an afterthought.
But as everyone who reads mysteries knows, coincidences are always more than they initially seem. Somehow that body is going to be tied to the fire, and the fun will come in finding out how the author pulls it all together.
Those who have already encountered this series will know that the outcome will be both clever and unexpected, because Jones is quite adept at the sort of plot twists that keep readers guessing. As with the previous installments in this series, "Village of the Ghost Bears" is tightly written, fast moving and driven by believable characters. There are a couple of false leads that send Active and his compatriots scurrying in the wrong direction, but by the end the various loose ends will all be tied up into a neat little knot that makes perfect sense.
Initial suspicion falls on a former Chukchi resident named Jae Hyo Lee, a Korean who had recently been released from federal prison in Oregon after serving a term for trafficking in polar bear bladders. Lee had blamed the deceased police chief for his arrest, and had been overheard vowing to kill him when he was freed.
To complicate matters, Lee had received a visit from a local ne'er-do-well named Tom Gage shortly before he left prison.
What the two discussed is unknown, but Gage, along with several other men, had subsequently been trapped in the sauna at the recreation center when the fire broke out. The door had apparently been wired shut and none were able to escape.
As Active pursues these leads, Jones is able to delve into the racial tensions that exist in Chukchi. This is one of the elements that lends authenticity to this series. Chukchi is populated by three main racial groups, the Natives who have always lived there, the whites who came later, and the Koreans who are the most recent arrivals and who control most of the restaurants and hotels in town.
These three groups coexist in an uneasy standoff with each other, and Jones, to his credit, doesn't try to paper over their conflicts. Having lived in Kotzebue, Jones is familiar with the racial divides in rural Alaska, and he doesn't try to sweeten them with a false sense of political correctness.
Nor does he condemn the situation. He merely presents it as a fact of village life, an approach that helps make his writing ring true.
Jones also evokes the arctic landscape handily and with minimal fuss, as in this passage from his opening page: "One-Way Lake was a blue teardrop cupped in the foothills of the Brooks Range, with caribou trails lacing the ridges on either side. The outlet, One-Way Creek, lined with stunted black spruce and a few cottonwoods gone gold, threaded south across the rusting fall tundra toward the Isignaq River. At the lake's head, wavelets licked a fan-shaped talus under a steep slope of gray-brown shale. More caribou trails cut across its face."
Similar descriptions of arctic beauty — as well as the corresponding ugliness of arctic settlements — fill the story as it careens from Chukchi to the nearby village of Cape Goodwin and on up to Barrow.
I won't reveal any more details of that story here. Suffice to say that Jones constructs welldefined characters, crafts a believable plot and keeps his writing sharp and to the point throughout. The result is another great entry in what has become one of the best things going in Alaska fiction. — David James, Dec. 27, 2009
Publishers Weekly, Starred Review
Jones, who's been a bush pilot and an investigative reporter, brings stomach-wrenching verisimilitude to crimes despoiling the land and the people, while he sensitively renders the tender, painful romance between Nathan and Grace. His sympathetic portrayal of Alaska's mixed-ethnic traditions is a tribute to both the state and the states of mind it inspires.
Kirkus Reviews, Starred Review
Multi-layered characters and an offbeat setting authentically rendered—Jones bids fair to become the Tony Hillerman of Alaska.
Booklist
"Nathan is a likable series lead, capable, depending on the situation, of touching tenderness or unbending strength. Fans of other Alaska-set series—Dana Stabenow's atmospheric Kate Shugak novels and John Straley's rather more traditional books featuring private investigator Cecil Younger—will embrace the Active novels but don't stop there: recommend this one to anyone who enjoys a stylishly written, solidly plotted mystery.
Library Journal
Readers get a crash course in living in remote Alaska and a mighty fine mystery as well. Comparable to Alaska mysteries by Dana Stabenow and Mike Doogan, this series should get more exposure than it does.
Mystery Gazette
Inupiaq Alaskan state trooper Nathan Active is camping with his beloved Grace when they find a corpse in a creek. The pike had eaten away the face of the deceased.
Soon afterward someone sets a fire to the recreation center in the remote village of Chukchi. Eight people including the police chief die in the deadly inferno.
Nathan investigates both cases of homicide. At the same time, apparent polar bear poaching, an illegal act as the animal is protected by law, makes his inquiry much more dangerous and convoluted especially the body in the brook inquiry.
The latest Nathan Active police procedural (see Frozen Sun) is a terrific Alaskan thriller that hooks the reader early with its stark beautiful description of remote Alaska mostly from an aerial view. Nathan is his super self working exciting twisting investigations into homicides and poaching that look like Bridges to Nowhere except for his diligence, and his romance enhances the plot as he turns to a native healer for advice. However, Alaska owns this super tale as Stan Jones provides a deep look at a remote part of the state. — Harriet Klausner
Thomas Perry
"Trooper Nathan Active's beat is a few outposts in a remote, frigid world. But wherever people live, they bring greed, madness, and death. Active's courageous and stubborn determination to gather the scattered bits of evidence make Stan Jones's Village of the Ghost Bears a fascinating rendition of the human struggle for truth. — Thomas Perry is the author of Runner and Vanishing Act