Shaman Pass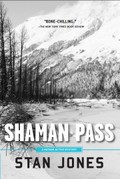 Reviews
New York Times Book Review
Marilyn Stasio
The old Eskimo woman who describes Nathan Active as "the naluaqmiiyaaq boy with winter in his eyes" is saying a mouthful about the native-born but nearly white (naluaqmiiyaaq) Inupiat hero of Stan Jones's SHAMAN PASS. In a robust sequel to "White Sky, Black Ice," this Alaska state trooper is still burdened by his urban upbringing and aversion to ice and snow. But his outsider status makes Active acutely sensitive to the political issues involved in the murder of a tribal council elder and the theft of a mummy recently returned to a local museum under the Indian Graves Act. Even as he struggles to understand the quirky ways of modern Eskimos and comes respect "the cheerful fatalism with which the Inupiat seemed to arm themselves against the perplexities of life," Active maintains his awe of the vast Alaskan tundra, a forbidding region that Jones renders in all its bone-chilling beauty.


Mystery News
Leslie Doran
In Stan Jones' second book the action returns to one of my favorite places, populated with my kind of characters, with the setting of Alaska acting as just one more tough character itself. I have to admit that if I were to visit that great state again, the far north wouldn't be my first choice. This is a world on the edge of never with lots of ice and snow and very, very cold water. This is all in all, a place very inhospitable to human life.
We join up with Nathan Active, a slightly more seasoned Alaska State Trooper in this second book as he is faced with an unusual murder near his post in Chukchi, an Inupiat village. An important village leader, Victor Solomon, has been harpooned while he was at his sheefishing camp and all alone out on the ice. So there are no witnesses to help in the investigation. Also fingerprints are a long shot since the temperature is only about zero.
It has been some time since Jones' first book, but he hasn't lost the knack of creating a compelling tale where characters display eccentricities and spice and add to the flavor of his story. Remembering Nathan's past, we know that he was adopted by a white couple and raised in Anchorage, but was born in Chukchi. During this tale Nathan has a girlfriend, and he is still struggling with his relationship with his birth mother who is married to a white man and has another son from this new union. Tentative steps are made by Nathan to establish a relationship with his grandfather who resides in the local home for the elderly. In fact Nathan's grandfather helps provide clues to his current case, which really started with local folklore and took place almost 80 years ago.
The victim was killed with an antique ivory and wood harpoon just recently returned to the community by the Smithsonian, according to the terms of the Indian Graves Act. A suspect who is a rabid Native activist, supposedly burgled the harpoon, along with an unidentified Inupiat mummy nicknamed "Uncle Frosty," from the local native museum. Nathan grapples with the identity of the murderer and the elusive motive, since the most likely suspect has an alibi for the crime.
While unfolding this crime, that has its roots in the past of the tribe, Jones highlights the unique character of the residents of this remote area of our 49th state. He also pays homage to the amazing bush pilots of the state when he depicts the skills of these hardy and almost fearless individuals in several riveting scenes in the book. Even the guilty display honor and remorse for their actions and pay the ultimate price for their crimes. This was a sequel long in the waiting but it was worth the wait.


Publisher's Weekly
In Jones's stirring, often moving second mystery (after 1999's White Sky, Black Ice), set in Northwest Alaska, trooper Nathan Active must solve the theft of a sacred Inupiat mummy. Well-meaning "naluaqmiut" (white men) at the Smithsonian have sent mummified "Uncle Frosty" to a museum, only to have the body stolen by villagers wishing to respect traditional native funeral customs. When a tribal elder turns up impaled on the mummy's harpoon at his lonely ice-fishing outpost, an extensive investigation follows across a vast barren area. Active tracks down a fascinating series of suspects living in isolated hunting and whaling camps and in squalid igloos, each with an intriguing story to tell. Active soon finds himself caught in a struggle between the fearsome power of "Shamans" (pagan devil doctors) and the legacy of Natchiq, a murdered prophet and social reformer. In time, the trooper and the reader achieve a deeper level of understanding of bygone traditions in a remote society where snowmobiles are replacing dogsleds and young children crave Pokemon cards. Jones skillfully depicts the beauty and desolation of the "treeless tundra" in winter as well as the hardships of survival in one of the world's most hostile climates. In the compelling ending, Active and his posse fly to a remote mountain pass to hunt for Uncle Frosty and his abductor. A handy Inupiat glossary and background history are included.


Kirkus Reviews
"It's just not safe out there," says a veteran cop colleague—fair warning, however understated. "Out there" is the snow and ice of basically inaccessible northern Alaska, plus a dangerous man that Alaska State Trooper Nathan Active is tracking. Nathan, still regarded as an interloper in Chukchi, where he's been stationed for the past two years, has begun to chafe under the description. True, he was raised in citified Anchorage, but Chukchi is the town of his birth; he's a full-blooded Eskimo; and being treated as an outsider is no help to an investigator contending with a complex case, particularly when it involves the old ways. Crusty, unpopular Victor Solomon, proprietor of Chukchi's village museum, has been found lethally harpooned and law enforcement has connected the homicide to "Uncle Frosty," the mummified Eskimo only recently rejected by the Smithsonian due to its callow youth. Uncle Frosty is a mere 80-something, far shy of the centuries he was assumed to be mellowing. Undeterred, entrepreneurial Victor, convinced of Uncle Frosty's potential as a tourist attraction, bought him, planning to give him prominence in the museum. But the unseemly display was anathema to a hard core of oil-way believers, one of whom probably did him in. So now Nathan finds himself trekking to the far reaches to catch up with the man who probably purloined the mummy, probably harpooned the curator, and probably intends to kill Nathan should he ever complete his journey.
Solid police work in a cold climate.


Booklist
Stephanie Zvirin
Nathan Active, an Inuit raised by white adoptive parents, has returned to his native town, where he is an Alaska State Trooper. When the murder of a curmudgeonly old Inuit leader is linked to the theft of a mummy slated for display in a new museum, Active finds himself in charge of the case. His investigation takes him back to a nineteenth-century rivalry between an Eskimo social reformer and a powerful shaman and deep into the treacherous frozen wilderness, where he must find and stop a killer. The suspense is on the tepid side, but Jones' second Nathan Active mystery stands up nicely against Tony Hillerman's books in terms of the richness of its cultural specifics and the easygoing character of its protagonist. From the dialoge peppered with Inupiat terms (Jones leads off with a glossary) to the shivery sense of the bitter cold that permeates every aspect of Alaska life, Jones creates a stunningly authentic sense of Alaskan history and of a culture still in the throes of change.


Juneau Empire
Charles Bingham
It's a cold winter day in the fictional Northwest Arctic village of Chukchi, and the body of Victor Solomon has been found near his ice fishing camp - impaled by an antique wood and carved ivory spear that's more than 100 years old.
Alaska State Trooper Nathan Active has to solve the murder, a crime that also includes the theft of the spear, a mummified body recently returned to Chukchi by the Smithsonian, and an ivory amulet carved in the shape of a snowy owl.
Solving the crime means learning more about his culture for Active, an Iñupiaq Eskimo who was born in Chukchi but raised in Anchorage by white adoptive parents. Some villagers consider Active a naluaqmiiyaaq, which means almost white or an Iñupiaq who tries to act white.
During the course of the book "Shaman Pass," by Anchorage writer Stan Jones, Active is taken on a journey of discovery that includes a lesson about the murder of an ancient Iñupiaq known as Natchiq, a character loosely based on the true-life Iñupiaq prophet Maniilaq who lived in the mid 1800s.
The real life Maniilaq, who was not murdered as the Natchiq character was in this book, predicted the arrival of whites to the area around Kotzebue and a mode of travel that involved fire and air. He also fought the shamans, or angatquq, who ruled the time and the taboos they imposed on the Iñupiat, such as the quarantine of pregnant women.
Jones, who used to work for KOTZ radio in Kotzebue and helped found the Arctic Sounder newspaper that covers the Northwest Arctic and North Slope regions, does a good job writing about the Iñupiat culture. This is his second book featuring Active as the lead character, and both offer readers a nice glimpse into life in the modern Northwest Arctic - where most everyone still lives a subsistence lifestyle with the modern twist of snowmachines, cell phones and kids collecting Pokemon cards.
Jones also is a Bush pilot, so his descriptions of flying in the Northwest Arctic - with winds blowing at 40 knots and having to break loose skis frozen into the ice before takeoff - really give you the feeling that you're in the same plane with Active and Jones' pilot character, Cowboy Decker.
Ever since Tony Hillerman wrote his first mystery novel featuring the Navaho policeman Joe Leaphorn ("The Blessing Way," which was printed in 1970), many authors have tried to duplicate Hillerman's successful formula of writing a novel that was as much an ethnographical and sociological work as a mystery.
Few writers have been able to succeed using Hillerman's formula, with the main reason being they don't have first-hand knowledge of the culture. One Colorado author, Christopher Lane, wrote a series of three or four books featuring an Iñupiaq detective from Barrow that were truly laughable. His books were so full of errors they weren't worth reading - for example, Lane's Iñupiaq detective character has the surname of Attla, which is a Koyukon Athabascan name mainly found near the village of Huslia, and Lane has his detective driving along a road from Barrow to Nuiqsut that doesn't exist.
Jones is much more successful with his Nathan Active series than others who have attempted to recreate the Hillerman formula.
Even though he's been a resident of Anchorage for more than a decade, Jones spent enough time in the Northwest Arctic that he's familiar with village English. By having Active grow up in Anchorage, it's made his main character an outsider in his own home village, which is a good device for explaining the items those who live in the Bush would take for granted.
I had the rare opportunity to see Jones' writing process at work when he was working on his first Active novel, "White Sky, Black Ice," published in 1999. Five years ago Jones and I were in an Anchorage writing group where each month writers brought in a new chapter from their works in progress.
Jones brought in chapters of his book, then called "The Jade Ax" before his publisher changed the title. His chapters were the cleanest and most polished of anyone's in the group. His dialog was cleaner - maybe from the years he spent as a radio reporter transcribing taped interviews - and the dialog does a good job of moving the story along.
As far as mysteries go, I'd rate Jones in the same class with Sitka author John Straley, who I think ranks above Anchorage authors Dana Stabenow and Sue Henry. I've enjoyed both of Jones' novels, and I think "Shaman Pass" is a worthy follow-up novel to "White Sky, Black Ice."